We are paying anyone willing to contribute a scrambling route to the website £5 in cash (+ donating £2.50 to a Mountain Rescue team of your choosing).
Guidebooks are all well and good, but the unique perspective and step by step photos of others can often give you the confidence you need to try a new route.
All you need to do is provide the following information:
Route info -Map, Grade, Gear, and Approach information.
Scrambling Guide – an overview, and instructions for each main section of the scrambling route.
Media – Images or video from the route including the main moves, approach and descent.
About you (optional) – an image of you, short byline about you, and some links to social media accounts.
Email this information to contribute@ukscrambles.com and we will email back to clarify any details and sort out the payment / donation.
Note, these routes have to be your own account, and cannot simply be copied and pasted from a guide book.
Once contributed, UKscrambles.com owns the right to all of the submitted content, and so it may not be reused on other websites / open groups.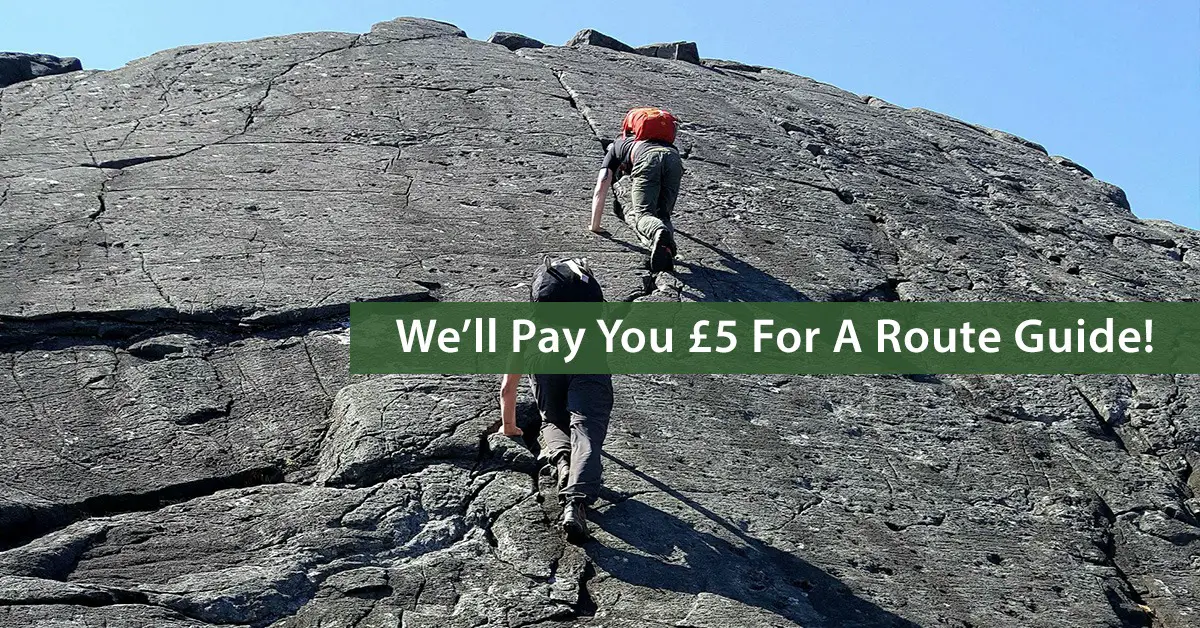 Too Much Work? Ok Try This…
So writing is too much like hard work?
Well now you can just submit your pictures / videos, and we'll make a donation to a Mountain Rescue team of your choice.
And all it'll take is a copy and paste.
You can upload them to a service such as Dropbox or Google Drive for free.
£1.50 donated for every set of route photos provided (photos / videos of approach, scrambling moves, summit, and descent ideally).
As with other contributions, once submitted,  you agree that the photos / video are the sole property of UKscrambles.com, and cannot be used on any other website or open social group.