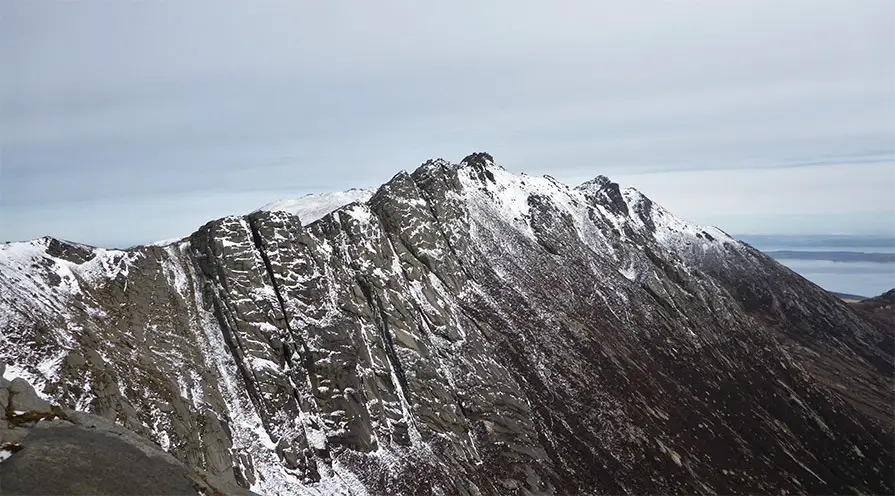 The A'Chir ridge located on the Isle of Arran is considered to be the greatest Scottish mountaineering ridge outside of the Isle of Skye.
A nice long approach, with heart stopping exposure, bottomless abseils and some complex route finding requirements, make it one of the most exhilarating ridge traverses about – plus it's not even a Munro!
The official grade is UK Moderate, with hands on scrambling required, and a rope useful for abseil. 
Route Map
Below shows the route outline, and should be taken from West to East, ie left to right.
Approach
1 – (NR 98266 38644) The easiest approach is from the campsite in Glen Rosa, where the main track can be followed to where a bridge crosses the frothing Garbh Alt burn that tumbles steeply down the hill side.
2 – (NR 97033 40719) From the bridge a parallel path is followed up the burn before passing through a gate out of a deer free conservation area. From here you break out onto the lower slopes of Beinn Nuis and up to Cnoc Breac. After a wee while a rough paths can be seen to head along the ridge which can be followed (or more interestingly ascend the easy slabs and ribs) which eventually leads to the thin summit of Beinn a Chliabhain providing fine views of Goatfell.
3 – (NR 96596 41040) Continue along the summit ridge before cutting left (west) down the slope towards a col, marking the start of the ascent to Beinn Tarsuinn. From here a sneaky but intimidating path can be followed right across the headwall of the steep Coire Daingean and follows a series of heathery ledges perched above slabs. Contrary to what you might think – its quite benign and present no difficulties (other than mental ones!) eventually landing you at the col between Beinn Tarsuinn and A' Chir.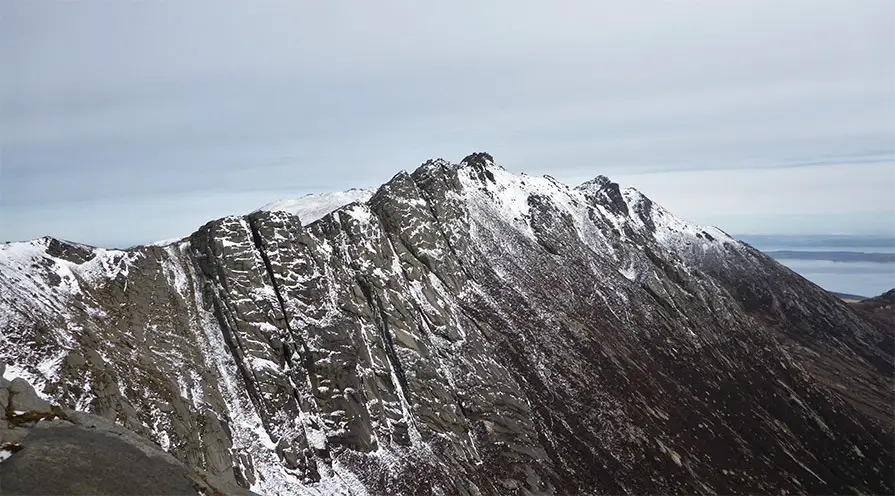 The Scramble
4 – (NR 96276 41508) From this point the main ridge of A'Chir can be viewed in all its glory. Steep towers of bubbling overlapping granite interspersed by yet more heather and scree. From this point it is clear that the ridge is not the knife edge arete as the map may suggest, instead its western side is dominated by easy angled slabs up towards large granite towers before tumbling down over the steep east face.
The easiest line is generally on this western side where the difficulty can be adjusted to suit the ascentionist but isn't really any harder than Grade 3 or Mod. Once the main ridge is reached towers can be climbed and by-passed as required. There are good anchors throughout for abseils and belays and the rock is predominantly sound. A final chimney bars access to the summit tower and an awkward final block may prove difficult to defeat should two feet have to be placed directly on the top.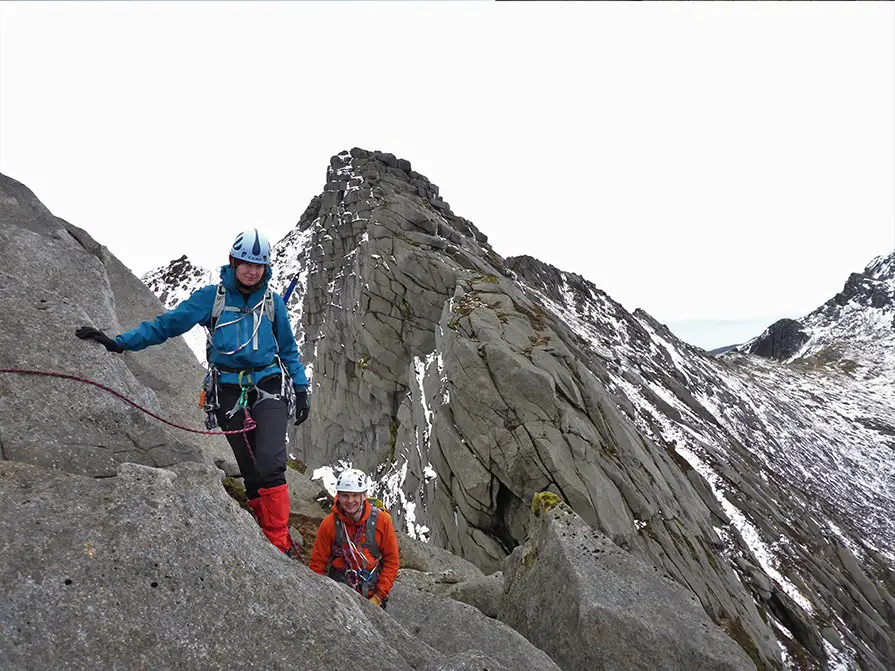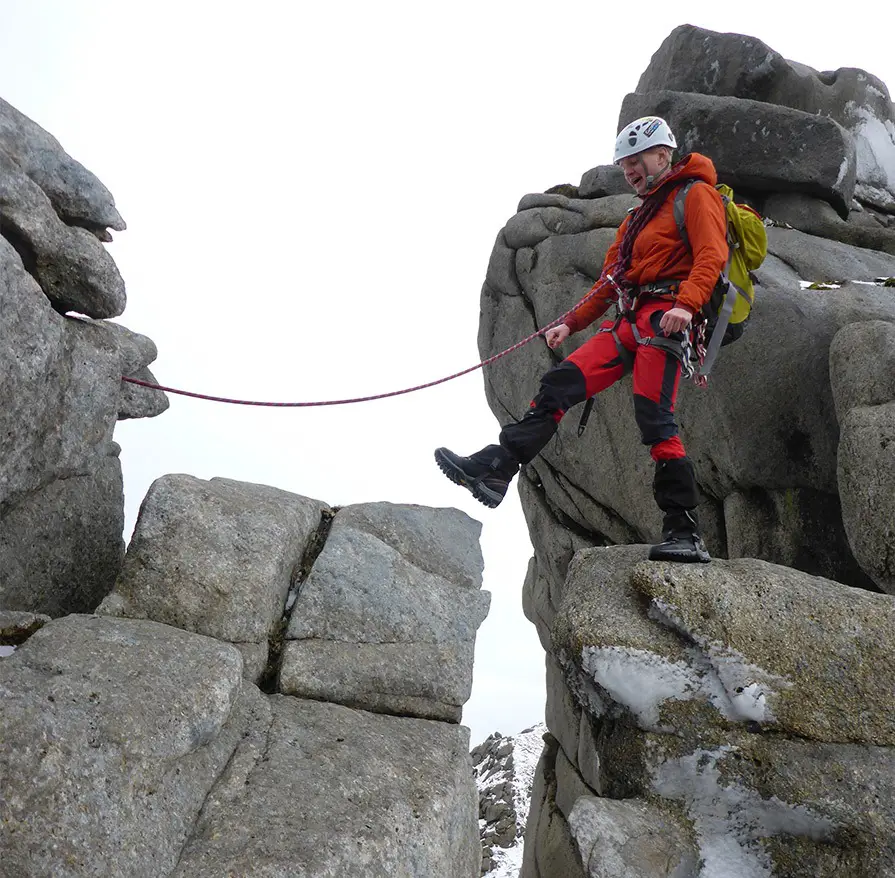 5 – (NR 96674 42133) From here onward the ridge becomes a lot more pronounced and the exposure seems to build exponentially. Delightful scrambling leads eventually leads to a slab on the western side with a polished crack running down and out of sight. This can either be abseiled from a thread (50m rope req.) or down climbed at Mod to 'The Bad Step'. This comprises of an easy step between two buttresses – nothing difficult you might think? Well the catch is the massive drop on either side!
*Immediately behind the step is a large block; there is a large loose flake attached to this which should not be used to belay.
6 – (NR 96579 42418) After this has been conquered further scrambling leads to a large, flat and narrow ledge which has huge drops off either side. This is known as 'The Diving Board'. The drop from here appears bottomless going vertically down into a col some 40m below and is know as 'Le Mauvais Pas'. A few meters back a rusted peg and in-situ nut marks the way down. From here a 25m abseil sees you in the base of the col(6). Send the camera man down first as the abseil is very photogenic!
*It is possible to re-belay after a short 5m scramble if using a <50m rope.
*It is also possible to climb down by traversing right (south) along a ledge and then descending another ledge back left (north), after that a polished chimney leads to the pass (VDiff/S).
This base of the pass must be one of the most isolated places on Arran with its far side appearing to be as impenetrable as the side just descended! The easiest way out is to ascend a polished groove in its center to some blocks. From here a polished and tricky step left leads you to easy ground. Much more enjoyable however is to step right past a chock-stone and up a groove to reach the arete. An airy step onto the exposed upper slabs on the right leads past an awkward mantel and back onto easier ground. From here onwards the difficulties diminish before the rounded ridge is gained eventually leading to the col between A'Chir and Cir Mor.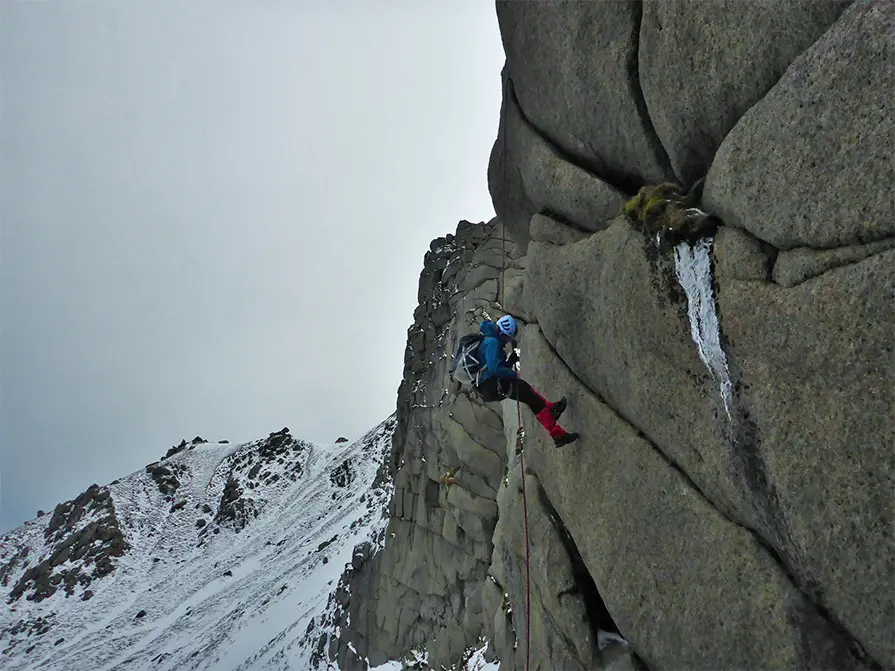 Descent
7 – (NR 96899 42902) From the col a cairn marks the descent down a well armored path into upper Glen Rosa. The path can then be followed down the Glen past a few boulders of climbing interest to the burn and back to the car park. Boots off and time for the pub!
Recommended Scrambling Guide: (coming soon)
Recommended Accommodation: Glen Rosa Campsite
The best place to stay to do the A'Chir ridge traverse is the Glen Rosa Campsite.
Being the natural start of this route, the camp site offers you the best place to start early without any other traveling required.
You can also check out good value accommodation nearby on Booking.com here.
Route Info
| | |
| --- | --- |
| Distance | 16.5 km |
| Elevation | 950m +/- |
| Duration | 9 hours |
| Grade | MOD |
| Transport | Car - Glen Rosa Campsite |
Route Contributed by: Sam Wainwright

"I live for everything outdoors and to me a bad day in the hills still beats a good day in the office."
Sam regularly publishes route blogs on his website Wainright Climbing here.
This route was created by Sam Wainwright and donated to the UK Scrambles website through our contributor program.
This generosity enables us to publish a whole range of scrambling routes to help you enjoy the outdoors.
If you have a route you could contribute, submit it to us today.