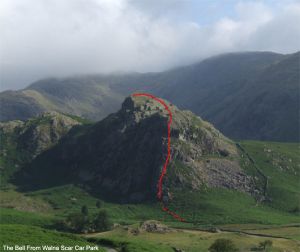 The Bell is a pleasant short scramble that can be done in just under 30 minutes. A great way to scramble this would be to make it the first scramble of the day whilst on your way to scramble Low Water Beck, or just as part of your walk up The Old Man of Coniston.
Approach. The approach to the Bell is taken from the Walna Scar car park. Take the old quarry road on your right and you will be able to se The Bell directly in front of you.
Follow the road for around 200 meters until you come to a wide grass path on your right follow this down to the stone wall and continue to the follow the wall past the Old Bell Cottage, until you come to a clearing cross this area which is more often than not quite wet and boggy, towards the base of the Bell , through the bracken.
The route starts on the left side of the ridge by scrambling up the prominent ridge line of rock for around 8 meters passing a couple of Juniper bushes on your right as you ascend. As you pass the Juniper bushes continue up towards a grass terrace.
From here climb directly up to another small grass terrace, move right towards a rocky ridge line and climb this for several meters until you come to another grass terrace with a prominent tree to your right.
Move over right towards the tree to climb a short rock wall recess on the left side of the tree, to reach easier angled rocks to which takes you to the slabs leading across the top to the summit of the Bell.
The descent can be made by heading over the top of the Bell and heading down over the back towards the quarry road.